Zapraszam Cię na językowe warsztaty kulinarne! Pieczemy "owocowe crumble"!
Dzisiaj będziemy wspólnie przygotowywać deser, a to dlatego, że ostatnio natrafiłam na bardzo prosty, wręcz banalny przepis na wyśmienity deser owocowy!
Często tak jest (a już obowiązkowo w sezonie letnim), że owoców w domu pod dostatkiem i nie ma pomysłu, co z nimi zrobić. Szkoda patrzeć, jak się marnują, więc jakiekolwiek owoce byś nie miał – możesz je wykorzystać w naszym przepisie. Tu nie ma ograniczeń

Ja dzisiaj wykorzystam jabłka, gruszki i banany i zrobimy "owocowe crumble".
Crumble to po prostu pyszna kruszonka, a więc zabieramy się do pieczenia owoców pod kruszonką.
Oczywiście "kucharzymy" po niemiecku, nauczysz się więc przy okazji paru ciekawych słówek!
Zaczynamy!
Crumble mit Früchten
Zutaten / Składniki:
3 Ӓpfel

3 jabłka

Audio clip: Adobe Flash Player (version 9 or above) is required to play this audio clip. Download the latest version here. You also need to have JavaScript enabled in your browser.

2 Birnen

2 gruszki

Audio clip: Adobe Flash Player (version 9 or above) is required to play this audio clip. Download the latest version here. You also need to have JavaScript enabled in your browser.

2 Bananen

2 banany

Audio clip: Adobe Flash Player (version 9 or above) is required to play this audio clip. Download the latest version here. You also need to have JavaScript enabled in your browser.




3 Esslöffel Butter

3 łyżki stołowe masła

Audio clip: Adobe Flash Player (version 9 or above) is required to play this audio clip. Download the latest version here. You also need to have JavaScript enabled in your browser.

Zucker

cukier

Audio clip: Adobe Flash Player (version 9 or above) is required to play this audio clip. Download the latest version here. You also need to have JavaScript enabled in your browser.

6 Esslöffel Mehl

6 łyżek stołowych mąki

Audio clip: Adobe Flash Player (version 9 or above) is required to play this audio clip. Download the latest version here. You also need to have JavaScript enabled in your browser.

3 Esslöffel Puderzucker

3 łyżki stołowe cukru pudru

Audio clip: Adobe Flash Player (version 9 or above) is required to play this audio clip. Download the latest version here. You also need to have JavaScript enabled in your browser.



Zubereitung:
Die Früchte waschen und schälen.




Owoce umyć i obrać ze skóry.

Audio clip: Adobe Flash Player (version 9 or above) is required to play this audio clip. Download the latest version here. You also need to have JavaScript enabled in your browser.

Die Früchte klein schneiden.

Pokroić owoce na drobno.

Audio clip: Adobe Flash Player (version 9 or above) is required to play this audio clip. Download the latest version here. You also need to have JavaScript enabled in your browser.

Äpfel, Birnen und Bananen mit etwas Wasser und Zucker ca. 10 Min. kochen,

bis die Früchte weich sind.




Jabłka, gruszki i banany gotować ok.10 minut z niewielką ilością wody i cukru,

aż owoce będą miękkie.

Audio clip: Adobe Flash Player (version 9 or above) is required to play this audio clip. Download the latest version here. You also need to have JavaScript enabled in your browser.

Eine Prise Zimt auf die Früchte streuen und verrühren.

Owoce posypać szczyptą cynamonu i zamieszać.

Audio clip: Adobe Flash Player (version 9 or above) is required to play this audio clip. Download the latest version here. You also need to have JavaScript enabled in your browser.







Crumble-Teig:

Mehl, 2-3 EL Puderzucker und Butter zu einem Teig kneten.




Ciasto na kruszonkę:

mąkę, 2-3 łyżki stołowe cukru pudru i masło ugnieść na ciasto.

Audio clip: Adobe Flash Player (version 9 or above) is required to play this audio clip. Download the latest version here. You also need to have JavaScript enabled in your browser.

Die Früchte in die Auflaufform geben.

Owoce włożyć do naczynia do zapiekania.

Audio clip: Adobe Flash Player (version 9 or above) is required to play this audio clip. Download the latest version here. You also need to have JavaScript enabled in your browser.

Aus dem Teig kleine Streusel formen und über die Früchte bröseln.

Z ciasta uformować drobną kruszonkę i pokruszyć na owoce.




Das Ganze für ca. 20 Minuten bei ca. 180°C  backen.

Wszystko zapiekać ok.20 minut w temp. ok.180 stopni.

Audio clip: Adobe Flash Player (version 9 or above) is required to play this audio clip. Download the latest version here. You also need to have JavaScript enabled in your browser.
Am besten schmeckt der Crumble mit Früchten, wenn er heiß oder zumindest noch lauwarm ist.
Audio clip: Adobe Flash Player (version 9 or above) is required to play this audio clip. Download the latest version here. You also need to have JavaScript enabled in your browser.
Kruszonka z owocami najlepiej smakuje, jak jest gorąca albo przynajmniej letnia.
Guten Appetit!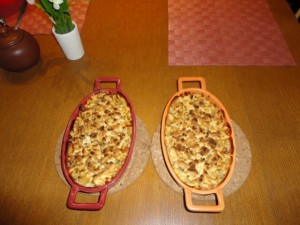 Powtórz jeszcze za mną słówka z dzisiejszej lekcji, które warto zapamiętać:
schälen / abschälen
Audio clip: Adobe Flash Player (version 9 or above) is required to play this audio clip. Download the latest version here. You also need to have JavaScript enabled in your browser.
obierać (np. owoce, warzywa)
klein schneiden
Audio clip: Adobe Flash Player (version 9 or above) is required to play this audio clip. Download the latest version here. You also need to have JavaScript enabled in your browser.
drobno pokroić
streuen
Audio clip: Adobe Flash Player (version 9 or above) is required to play this audio clip. Download the latest version here. You also need to have JavaScript enabled in your browser.
sypać, posypać
verrühren
Audio clip: Adobe Flash Player (version 9 or above) is required to play this audio clip. Download the latest version here. You also need to have JavaScript enabled in your browser.
wymieszać
kneten
Audio clip: Adobe Flash Player (version 9 or above) is required to play this audio clip. Download the latest version here. You also need to have JavaScript enabled in your browser.
ugniatać, wyrabiać
bröseln
Audio clip: Adobe Flash Player (version 9 or above) is required to play this audio clip. Download the latest version here. You also need to have JavaScript enabled in your browser.
kruszyć, rozkruszyć
lauwarm
Audio clip: Adobe Flash Player (version 9 or above) is required to play this audio clip. Download the latest version here. You also need to have JavaScript enabled in your browser.
letni
Przy okazji naszego deseru poznaj jeszcze inne wyrażenia, które mogą Ci się przydać podczas przygotowywania potraw m.in. z owoców:
vierteln
Audio clip: Adobe Flash Player (version 9 or above) is required to play this audio clip. Download the latest version here. You also need to have JavaScript enabled in your browser.
ćwiartować
Audio clip: Adobe Flash Player (version 9 or above) is required to play this audio clip. Download the latest version here. You also need to have JavaScript enabled in your browser.
kroić w kostkę
Audio clip: Adobe Flash Player (version 9 or above) is required to play this audio clip. Download the latest version here. You also need to have JavaScript enabled in your browser.
kroić na kawałki
in Scheiben schneiden
Audio clip: Adobe Flash Player (version 9 or above) is required to play this audio clip. Download the latest version here. You also need to have JavaScript enabled in your browser.
kroić  na plasterki
Audio clip: Adobe Flash Player (version 9 or above) is required to play this audio clip. Download the latest version here. You also need to have JavaScript enabled in your browser.
siekać
Dzisiejsze crumble przygotowaliśmy na bazie jabłek, gruszek i bananów.
Ale równie dobrze możesz użyć innych owoców.
Poznaj nazwy i wymowę najbardziej popularnych owoców:
der Apfel
jabłko
Audio clip: Adobe Flash Player (version 9 or above) is required to play this audio clip. Download the latest version here. You also need to have JavaScript enabled in your browser.
die Orange / die Apfelsine
pomarańcza
Audio clip: Adobe Flash Player (version 9 or above) is required to play this audio clip. Download the latest version here. You also need to have JavaScript enabled in your browser.
die Weintraube, die Traube
winogrono
Audio clip: Adobe Flash Player (version 9 or above) is required to play this audio clip. Download the latest version here. You also need to have JavaScript enabled in your browser.
die Banane
banan
Audio clip: Adobe Flash Player (version 9 or above) is required to play this audio clip. Download the latest version here. You also need to have JavaScript enabled in your browser.
die Himbeere
malina
Audio clip: Adobe Flash Player (version 9 or above) is required to play this audio clip. Download the latest version here. You also need to have JavaScript enabled in your browser.
die Brombeere
jeżyna
Audio clip: Adobe Flash Player (version 9 or above) is required to play this audio clip. Download the latest version here. You also need to have JavaScript enabled in your browser.
die Blaubeere
czarna jagoda
Audio clip: Adobe Flash Player (version 9 or above) is required to play this audio clip. Download the latest version here. You also need to have JavaScript enabled in your browser.
die Erdbeere
truskawka
Audio clip: Adobe Flash Player (version 9 or above) is required to play this audio clip. Download the latest version here. You also need to have JavaScript enabled in your browser.
agrest
Audio clip: Adobe Flash Player (version 9 or above) is required to play this audio clip. Download the latest version here. You also need to have JavaScript enabled in your browser.
die Kirsche / die Sauerkirsche
wiśnia
Audio clip: Adobe Flash Player (version 9 or above) is required to play this audio clip. Download the latest version here. You also need to have JavaScript enabled in your browser.
die Süßkirsche
czereśnia
Audio clip: Adobe Flash Player (version 9 or above) is required to play this audio clip. Download the latest version here. You also need to have JavaScript enabled in your browser.
die Johannisbeere
porzeczka
Audio clip: Adobe Flash Player (version 9 or above) is required to play this audio clip. Download the latest version here. You also need to have JavaScript enabled in your browser.
schwarze Johannisbeere
czarna porzeczka
Audio clip: Adobe Flash Player (version 9 or above) is required to play this audio clip. Download the latest version here. You also need to have JavaScript enabled in your browser.
rote Johannisbeere
czerwona porzeczka
Audio clip: Adobe Flash Player (version 9 or above) is required to play this audio clip. Download the latest version here. You also need to have JavaScript enabled in your browser.
die Birne
gruszka
Audio clip: Adobe Flash Player (version 9 or above) is required to play this audio clip. Download the latest version here. You also need to have JavaScript enabled in your browser.
die Ananas
ananas
Audio clip: Adobe Flash Player (version 9 or above) is required to play this audio clip. Download the latest version here. You also need to have JavaScript enabled in your browser.
die Zitrone
cytryna
Audio clip: Adobe Flash Player (version 9 or above) is required to play this audio clip. Download the latest version here. You also need to have JavaScript enabled in your browser.
die Kiwi
kiwi
Audio clip: Adobe Flash Player (version 9 or above) is required to play this audio clip. Download the latest version here. You also need to have JavaScript enabled in your browser.
die Wassermelone
arbuz
Audio clip: Adobe Flash Player (version 9 or above) is required to play this audio clip. Download the latest version here. You also need to have JavaScript enabled in your browser.
der Pfirsich
brzoskwinia
Audio clip: Adobe Flash Player (version 9 or above) is required to play this audio clip. Download the latest version here. You also need to have JavaScript enabled in your browser.
die Nektarine
nektarynka
Audio clip: Adobe Flash Player (version 9 or above) is required to play this audio clip. Download the latest version here. You also need to have JavaScript enabled in your browser.
die Aprikose
morela
Audio clip: Adobe Flash Player (version 9 or above) is required to play this audio clip. Download the latest version here. You also need to have JavaScript enabled in your browser.
die Pflaume
śliwka
Audio clip: Adobe Flash Player (version 9 or above) is required to play this audio clip. Download the latest version here. You also need to have JavaScript enabled in your browser.
Mam nadzieję, że deser Ci posmakuje. Jeśli nie lubisz spędzać długich godzin w kuchni, myślę, że ten przepis na pewno Ci się spodoba!
Do zobaczenia w kolejnej lekcji!
Bis bald!
Zobacz także:

brak wpisów w podobnej tematyce
Dodaj komentarz
Musisz się zalogować, aby móc dodać komentarz.